7TH WORLD CHIN WOO CHAMPIONSHIPS & TAIJI LEGACY
---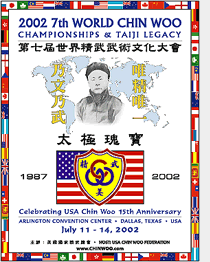 The 5th Taiji Legacy International Martial Arts Championships hosted by Jimmy Wong was held this year at the heart of Dallas-Fort Worth, Texas in the center of many attractions including Six Flags Over Texas and the Texas Ballpark, home of the Texas Rangers. From July 12 to July 14, nearly 800 participants attended seminars & competitions, while nearly 3500 spectators watched the competitions, Master's Demonstrations, and Sanshou Fight Night. The Arlington Convention Center, with over 30,000 square feet was a perfect, luxurious venue for this growing and grand event.
It all started in 1998, when tournament promoter Jimmy Wong wanted to create a unique event gathering all styles of taiji and kungfu from all parts of the world. The focus was on taiji and thus, all major styles of taiji were displayed at the opening of the tournament - Chen, Yang, Wu(Hao), Sun, and Wu. As music was played, masters, competitors, and the general audience were free to come out to the floor and perform their style. It was both educational for the public and fun for the participants. Thus, the first Taiji Legacy Championships was born. Over the years, the Taiji Legacy has added seminars, a 72-foot illuminated dragon dance, Sanshou, and a formal Wing Chun Grand Champion title. This year, the 7th World Chin Woo Championships, held once every 2 years, was hosted in conjuction with the Taiji Legacy. This is the first time in history that the Championships are held in a Western country. It brought together participants from many other countries including China, Malaysia, Japan, Poland, Switzerland, Canada, United Kingdom, Australia, Venezuela, Mexico, and Russia.
What motivated Jimmy Wong to host the World Chin Woo Championships comes from his deep respect and love for Chin Woo. Chin Woo was founded by Grandmaster Huo Yan Jia in 1909 in Shanghai, China during a time of turmoil. The Chinese were often called the "Sick Men of Asia" because of the Opium War. To keep the Chinese image, Master Huo decided to organize the Chin Woo School to allow all Chinese the opportunity to learn Chinese kungfu and strengthen themselves in order to defend the country. After Master Huo passed away in August 1909, Mr. Chen Gong Zhe, Mr. Yao Chan Bo and Mr. Lu Wei Chang reopened the Chin Woo School. Master Huo's younger brother, Mr. Huo Yuan Siang, and his son, Mr. Huo Tong Ker, continued to teach at the Chin Woo School. Later, many famous martial arts masters were invited to teach in Chin Woo. Even though they came from different schools, they all followed Chin Woo regulations. Thus, Chin Woo became a famous and popular martial arts association in Shanghai.
In 1920, Shanghai Chin Woo sent five representatives to Southeast Asia to make Chin Woo available to other countries: Mr. Li Hui Seng, Mr. Luo Xiao Ao, Mr. Chen Gong Zhe, Mr. Yap Shu Tian, and Mrs. Chen Shi Chao. By 1923, these five Chin Woo Masters had opened Chin Woo schools all over Southeast Asia and visited nine different countries. Of the five masters, Mr. Yap Shu Tian was considered the most knowledgeable in kungfu. He and his two brothers, Mr. Yap Shu Xiang and Mr. Yap Shu Shen were regarded as the "Three Great Heroes of Chin Woo" because of their life-long devotion to Chin Woo and their great accomplishments.
Jimmy Wong began his training under Mr. Yap Shu Shen in Malaysia. In 1977, he came to the United States to pursue his B.Sc. and MBA. Mr. Wong subsequently traveled to Malaysia and Singapore Chin Woo schools for several years to consult with school officials and to extend his expertise in martial arts as well as in lion dance. The Chin Woo authorities were favorably impressed with Mr. Wong's dedication, hard work, and extensive knowledge of kungfu and provided enthusiastic support and encouragement to Mr. Wong's efforts to spread Chin Woo in America. These efforts culminated in the establishment of the first officially sanctioned Chin Woo School of kungfu in the United States on July 25, 1987.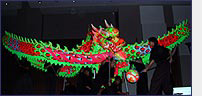 This year's Championships had a tweak of celebration as the year 2002 marks the 15th Anniversary for USA Chin Woo. Thus, Jimmy Wong opened the Championships with a 15 lion dance show and a demonstration of Chin Woo's compulsory 12 set Tan Tui form, performed in unison by all of the different Chin Woo Schools from around the world. Then the exciting illuminated dragon started its dance by coiling up into a "C" and then a "W" to represent "Chin Woo", and finally becoming a wild flapping phoenix at the end. The jam-packed excitement of the Ceremonies doesn't stop there. There was a special performance by the Houston Shaolin Monks, an Olympic-style march-in by all the competitors by country, and a similar style march-in by all the judges by their event category. As always, Jimmy Wong amazed us all by recognizing over 100 judges, officials, and special guests by name without any notes! Some of the special guests included Mr. Tai Yim, Mr. Jeff Bolt, Mr. William CC Chen, Mr. Hoy Lee, Mr. Johnny Lee, Mr. Chien-Liang Huang, Mr. Qiang Ya Liang, Mr. Steve Sun, Mr. Ray Luk, Mr. Henry Poo Yee, Mr. Tu Chungking, Mr. Mike Barry, Madame Wong Jurong, and Mr. Wu Chengde. From overseas, there was Shi De Yu (Shaolin Temple, Henan, China), Mr. Bah Chee Yeoh, Mr. Chan Kor Yap, Mr. Wie Yoo Teng, Mr. Kok Yeng Chow, and Mr. Satoshi Ito. Other Masters in attendance included Mr. Earl Portnoy, Mr. Philip Russell, and Ms. Debbie Fleishman. Lifetime achievement awards were presented to Madame Wong Jurong, Mr. William CC Chen, and to Jimmy Wong's Sifu Mr. Yap Shu Shen (accepted by his son, Mr. Yap Chan Kor).
In the midst of all the excitement of competition, nearly 70 seminars were taught by Masters and Grandmasters from all over the country including Jin Cai Cheng, William CC Chen, Zhonghua Chen, Sam Chin, Gene Ching, Andrew Chung, Jay Dunbar, Jianye Jiang, Johnny Lee, Yi Yuan Lee, Randy Li, Qiang Ya Liang, Henry Look, Yuzhi Lu, Benny Meng, Sam Ng, Philip Ng, Richard Peck, Shi De Shan, Shi Xing Ying, Chun Man Sit, Steve Sun, John Wang, Elaine Waters, Greg Watson, Hong Chao Zhang, Hui Zhuang, and Jingde He.
At the end of the day, everyone walked home with something, whether it be a nice shiny medal or a great experience. The big winners were the Grand Champions:
| | | |
| --- | --- | --- |
| YONG-QING YANG | Chandler, AZ | Internal Forms |
| WANG YING | Shanghai, CHINA | External Forms |
| ANITA TANG | Alberta, CANADA | Junior Forms |
| BRIAN CHAN | Dallas, TX | Wing Chun |
| DANIEL MINDER | Zurich, Switzerland | Chin Woo Forms |
So what, you ask, will Jimmy Wong have up his sleeve for next year? How about Hainan, China? The 1st China Hainan International Martial Arts Championships & Cultural Exchange will be held in June 28-29, 2003 in Hainan, China (the beautiful Hawaii of China). For those who don't want to travel too far, the 6th Taiji Legacy will still be held in Dallas, Texas in August 2003. See you then!